จำนวนครั้งที่เปิดดูสินค้า : 1075 | ความคิดเห็น: 0
PLANET VC-231G 1-Port 10/100/1000T Ethernet to VDSL2 Converter -30a profile w/ G.vectoring, RJ11

เพิ่มเมื่อ:
31/03/2021

แก้ไขล่าสุด:
03/05/2021

เบอร์โทรติดต่อ:
062-5193997 , 02-4582949

อีเมลล์:
krieng.nt@gmail.com
รายละเอียด:
VC-231G 1-Port 10/100/1000T Ethernet to VDSL2 Converter -30a profile w/ G.vectoring, RJ11 (สินค้ารับประกัน 3 ปี)
PLANET VC-231G
VC-231G 1-Port 10/100/1000T Ethernet to VDSL2 Converter -30a profile w/ G.vectoring, RJ11
- ITU-T G.993.5 G.vectoring and G.INP
- DMT-based coding technology
- Additional splitter to share voice and data
- CO/CPE mode selectable via DIP switch
- Selectable target band plan and SNR margin
- Up to 150/150Mbps bandwidth (in G.INP, Sym, 8dB mode)
- 1 10/100/1000BASE-TX LAN ports
- Complies with IEEE 802.3, 10BASE-T, IEEE 802.3u, 100BASE-TX and IEEE 802.3x, flow control Ethernet standards
- Half duplex back pressure and IEEE 802.3x full duplex pause frame flow control
- One RJ11 connector for VDSL port with VDSL connection
- Voice and data communication can be shared simultaneously based on the existing telephone wire
- Supports IEEE 802.1Q VLAN tag transparency
- VDSL2 standalone transceiver for simple bridge modem application
- Advantage of minimum installation time (Simply by Plug-and-Play)
- Supports extensive LED indicators for network diagnosis
- Co-work with PLANET media converter chassis (MC-700/MC-1500/ MC-1500R/MC-1500R48)
- Compact in size and easy to install
Ethernet Distance Extension
Two VC-231G converters can act as a standalone pair which is good for Ethernet distance extension over the existing telephone wires. With just one pair of AWG-24 copper wires, two Ethernet networks can be easily connected to each other with a maximum data transmission rate of 200Mbps. The telephone service can still be used while the VC-231G CO/CPE is in operation. The two solutions listed below are typical applications for the Ethernet over VDSL2 bridge.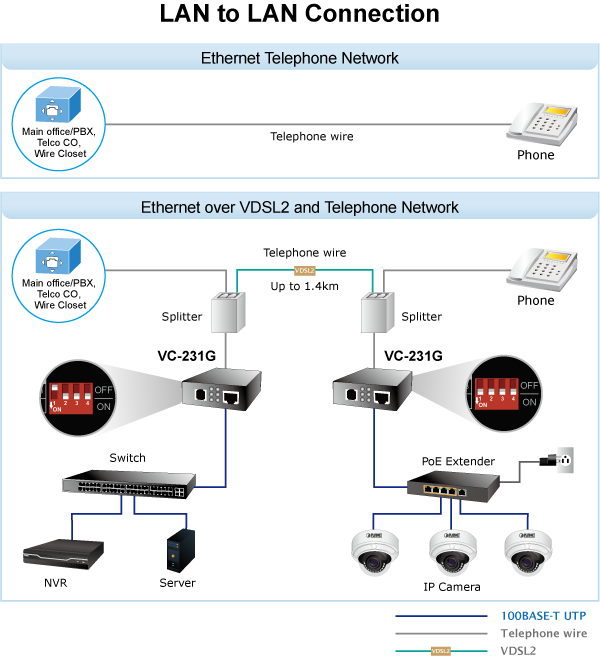 MTU/MDU/Hospitality Solution
The VC-231G is a perfect solution to quickly providing cost-effective yet high-speed network services to multi-unit buildings such as residential buildings (multi-dwelling units), commercial (multi-tenant units) buildings, hotels and hospitals. By utilizing the existing telephony infrastructure, a new network installation can be easily built, without requiring new wiring. With a transmission rate of up to 190/100Mbps (G.INP, Asym, 8dB), VoD, IP telephony and various broadband services can be easily provided.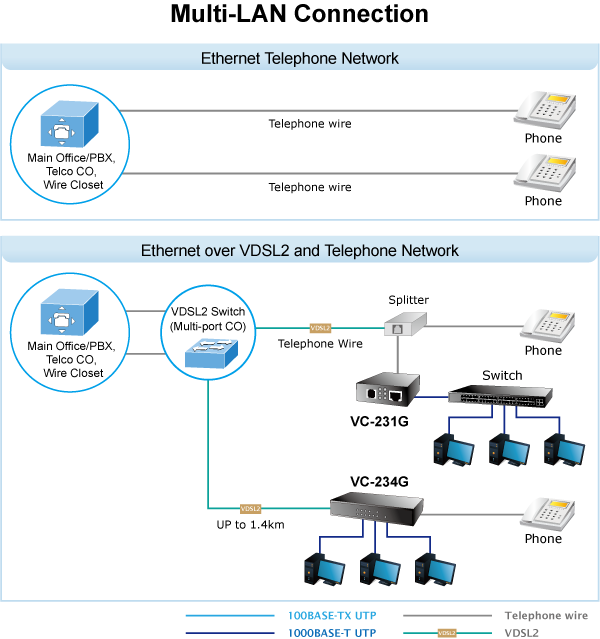 Last Mile of FTTx Deployment
The VC-231G is an ideal solution for FTTx (Fiber to the Building, Fiber to the Campus or Fiber to the Node) applications. It supports high-bandwidth VDSL2 over the existing telephone wires in the "last mile" from the ISP/telecom/service provider's fiber node to the buildings and customers' apartments. The 10/100/1000Mbps port of the VC-231G can be directly connected to a PC or Ethernet devices such as Ethernet switches or broadband routers. It is excellent for phone line network built under Internet because every room or house can use the existing phone line to transmit data through the Internet and the whole building can share the Internet to the wider area network at a minimum cost.