จำนวนครั้งที่เปิดดูสินค้า : 10024 | ความคิดเห็น: 1
 PLANET VC-231
VC-231 Ethernet over VDSL2 Converter (Profile 30a)
- Cost-Effective VDSL2 Profile 17a/30a CO / CPE bridge solution 
- Complies with IEEE 802.3, 10Base-T, IEEE 802.3u, 100Base-TX and IEEE 802.3x, Flow control Ethernet standards
- Half duplex Back pressure and IEEE 802.3x Full Duplex Pause frame flow control
- One RJ-11 connector for VDSL port with VDSL connection, additional Splitter for POST connection
- Voice and data communication can be shared simultaneously based on the existing telephone wire 
- One 10/100Mbps RJ-45 port, Auto-Negotiation and Auto-MDI/MDI-X
- Supports up to 1536 bytes packet size, IEEE 802.1Q VLAN tag transparent
- VDSL2 stand-alone transceiver for simple bridge modem application 
- Advantage of minimum installation time (Simply as Plug-and-Play)
Application
Ethernet Distance Extension 
Two VC-231 acting as a standalone pair is good for Ethernet distance extension over existing telephone wires. With just one pair of AWG-24 copper wire, you can easily connect two Ethernet networks together with the data rate of maximum 100/100Mbps. With the additional splitter, the telephone service can still be used while the VC-231 CO/CPE is in operation. The two solutions listed below are typical applications for the Ethernet over VDSL2 Converter.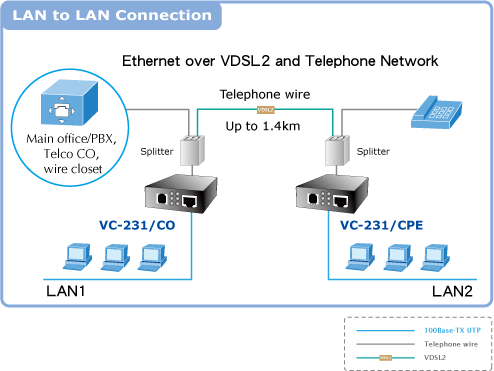 MTU / MDU / Hospitality Solution
The VC-231 is a perfect solution to quickly providing cost-effective yet high speed network services to multi-unit buildings such as residential buildings (multi-dwelling units), commercial (multi-tenant units) buildings, hotels or hospitals. By utilizing the existing telephony infrastructure, network installation is straightforward and requires no new wiring. With up to 100/100Mbps transmission, Video on Demand, IP telephony and various broadband services can be easily provided.
Last Mile of FTTx Deployment
The VC-231 is an ideal solution for FTTx (Fiber to the Building, Fiber to the Campus or Fiber to the Node) applications. It supports high bandwidth VDSL2 over existing telephone wires in the "last mile" from the ISP / Telecom / Service provider's fiber node to the buildings and customers' houses. The 10/100Mbps port of the VC-231 can be directly connected to a PC or to Ethernet devices such as Ethernet Switches or Broadband Routers. It is excellent for phone line network built under Internet because every room or house can use the existing phone line to transmit data through the Internet and the whole building can share the Internet to the wider area network at a minimum cost.
Specification 
Hardware Specification
Ports
10/100Base-TX: 1 RJ-45, Auto-Negotiation and Auto-MDI/MDI-X
VDSL: 1 RJ-11, female Phone Jack
PHONE: Additional Splitter for POST connection
DIP Switch & Functionality
• 4 position DIP switch
• CO / CPE mode select
• Selectable fast and interleaved mode
• Selectable target 17a / 30a profiles
• Selectable target SNR mode
Encoding
• VDSL-DMT
- ITU-T G.993.1 VDSL
- ITU-T G.997.1
- ITU-T G.993.2 VDSL2 (Profile 17a/30a Support)
LED Indicators
• One Power
• 3 for RJ-11/VDSL2 
• 2 for per RJ-45 10/100Base-TX port
Cabling
• Ethernet
10Base-T: 2-pair UTP Cat.3,4,5 up to 100m (328ft)
100Base-TX: 2-pair UTP Cat.5, up to 100m (328ft)
• VDSL
Twisted-pair telephone wires (AWG24 or better) up to 1.4km
Performance* (Downstream / Upstream)
• 17a profile 
300m -> 86/65Mbps 
400m -> 86/52Mbps
600m -> 81/36Mbps
800m -> 72/19Mbps 
1000m -> 60/9Mbps
1200m -> 59/6Mbps 
1400m -> 50/2Mbps 

• 30a profile 
300m -> 100/100Mbps 
400m -> 90/90Mbps
600m -> 61/40Mbps
800m -> 54/8Mbps
Power Requirement
5V DC, 2A
Power Consumption
6.6 Watts / 22 BTU
Dimension (W x D x H)
97 x 70 x 26 mm
Weight
199g
Environment
Operating
Temperature: 0 ~ 50 Degree C
Relative Humidity: 10 ~ 90% (non-condensing)
Storage
Temperature: -10 ~ 70 Degree C
Relative Humidity: 10 ~ 90% (non-condensing)
Switch Specification
Switch Processing Scheme
Store-and-Forward
Address Table
1K entries
Flow Control
Back pressure for half duplex, IEEE 802.3x Pause Frame for full duplex
Switch fabric
0.2Gbps
Throughput (packet per second)
0.14Mpps
Network cables
10/100Base-TX:
2-Pair UTP Cat. 3,4, 5 (100meters, max.) 
EIA / TIA-568 100-ohm STP (100meters, max.)
Standard Conformance
Regulation Compliance
FCC Part 15 Class A, CE
Standards Compliance
IEEE 802.3 10Base-T
IEEE 802.3u 100Base-TX
ITU-T
- G.993.1 (VDSL)
- G.997.1
- G.993.2 VDSL2 (Profile 17a/30a)
ติดต่อเรา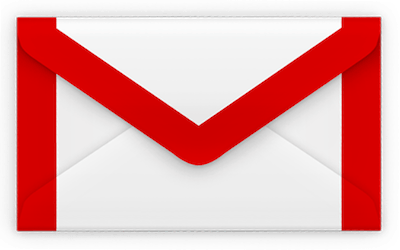 krieng.nt@gmail.com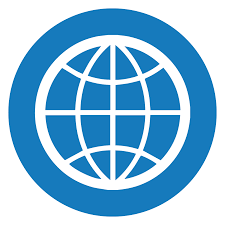 www.108connect.co.th