จำนวนครั้งที่เปิดดูสินค้า : 8279 | ความคิดเห็น: 1
PLANET VDR-300NU IEEE 802.11a/b/g/n dual band wireless Router VDSL2/ADSL2/2+

เพิ่มเมื่อ:
19/08/2014

แก้ไขล่าสุด:
05/05/2019

เบอร์โทรติดต่อ:
062-5193997 , 02-4582949

อีเมลล์:
krieng.nt@gmail.com
รายละเอียด:
VDR-300NU IEEE 802.11a/b/g/n dual band Wireless Router VDSL2/ADSL2/2+, 4-Port LAN 10/100Mbps,1 WAN with 2xUSB (สินค้ารับประกัน 3 ปี)
PLANET VDR-300NU
VDR-300NU IEEE 802.11a/b/g/n dual band wireless VDSL2/ADSL2/2+
- รองรับการใช้งาน 2 ย่านความถี่ 2.4GHz และ 5GHz ในอุปกรณ์เดียวกัน
- รองรับการรับส่งข้อมูลผ่าน Wireless สูงสุด 54Mbps* บนย่านความถี่ 5 GHz
และสูงสุด 300 Mpbs* บนย่านความถี่ 2.4 GHz
- พอร์ต RJ-11 จำนวน 1 พอร์ต สำหรับเชื่อมต่ออินเตอร์เน็ตระบบ ADSLและVDSL
- รองรับการทำ VPN 8 IPSec VPN Tunnel
- พอร์ต WAN จำนวน 1 พอร์ต รองรับความเร็วสูงสุดที่ 10/100
- พอร์ต LAN จำนวน 4 พอร์ต รองรับความเร็วสูงสุดที่ 10/100
- พอร์ต USB 2.0 จำนวน 2 พอร์ต สำหรับเชื่อมต่อ storage,Printer และ 3G USB Modem
- รองรับการใช้งาน ในระบบความปลอดภัยแบบ 64/128-bit WEP, WPA/WPA2
and WPA-PSK/WPA2-PSK(TKIP/AES encryption), and 802.1x.
PLANET VDR-300NU 802.11n Wireless VDSL2 Router is a multi-function home gateway designed to establish a high-speed VDSL2 broadband network for triple play applications. It is backward compatible with ADSL2+ fixed line over existing phone wire. The VDR-300NU is developed with five core networking technologies in one unit:VDSL2 (Very High Speed Digital Subscriber Line 2), ADSL2+, 3G, IEEE 802.11a/b/g/n dual band wireless connectivity and IPv6/IPv4 dual stack. It provides residential and office users with the ideal solution for sharing an ultra high-speed VDSL2 broadband connection.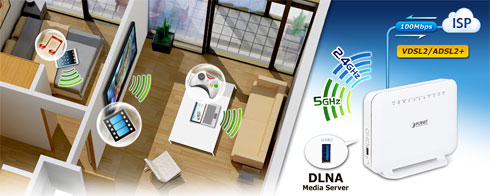 Multiple Functions for Broadband Communications
The VDR-300NU integrates VDSL2, ADSL2+, wireless LAN, USB storage, and 3G WAN services into one unit. It is designed to provide a simple and cost-effective xDSL Internet connection for a private Ethernet and 802.11a/b/g/n wireless network. The Router combines high-speed xDSL Internet connection and IP routing for the LAN and wireless connectivity in one package. It is usually preferred to provide high access performance applications for the individual users, the SOHOs and the small enterprises.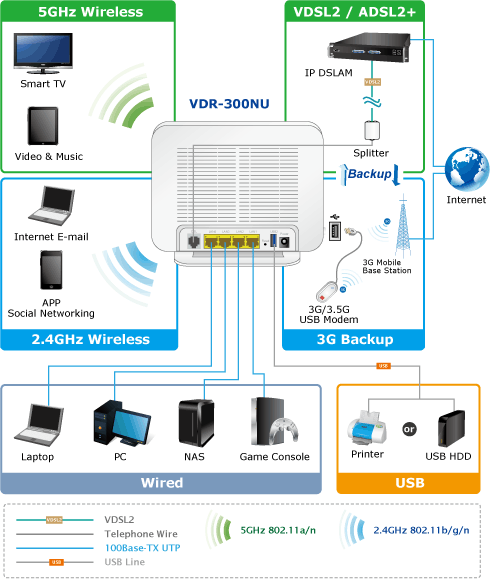 Home DLNA Media Server over USB File Sharing
The VDR-300NU is built-in with two USB ports which can be connected to a USB printer or external USB storage devices for file sharing. Moreover, the DLNA (Digital Living Network Alliance) compliant media server feature allows multimedia contents, such as stream videos, music and photos, to be easily shared among SmartTVs, tablets, mobile phones and laptops on a home network. Thus, all clients on the network can share printer or mass storage through the VDR-300NU without complicated network configuration. Via the USB port, it also can output 5V DC power to charge any USB compliant devices.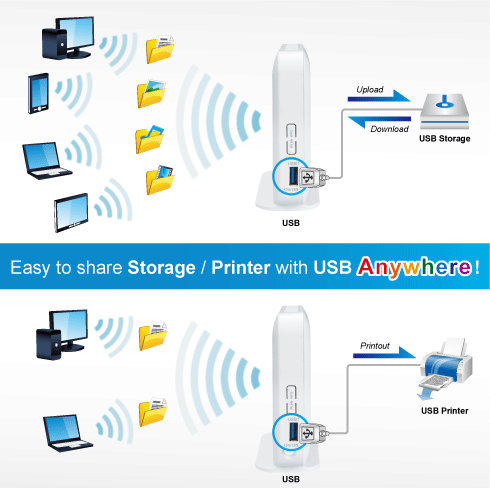 VPN Security
The VDR-300NU provides complete data security and privacy for access and exchange of most sensitivity data. The full VPN capability in the VDR-300NU including built-in IPSec VPN function with DES / 3DES / AES encryption and MD5 / SHA-1 authentication, makes the shared connection more secure and flexible. The IPSec VPN also makes the private tunnel over Internet in a secure way toward the business.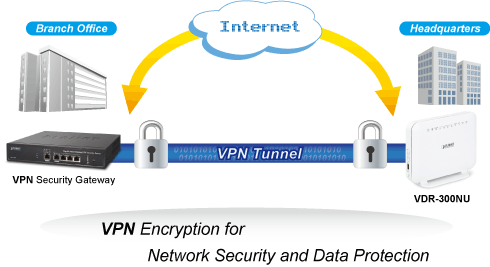 Specification
Hardware Specifications
Interfaces
LAN: 4 x 10/100Base-TX, Auto-Negotiation, Auto MDI/MDI-X RJ45 port
WAN: 1 x RJ-11
USB: USB 2.0, Type-A, 5V DC/0.5A Output
Antenna
2.4GHz : 2 x 2.5dBi internal antennas
5GHz: 2 x 2dBi internal antennas
Button
1 x Power button
1 x Reset button
1 x WPS button
1 x WLAN button
LED Indicators
PWR, DSL, LAN1-4, WLAN, WPS, Security
Dimensions (W x D x H)
180 x 145 x 54 mm
Weight
306g
Power
12V DC, 2A
Power Consumption
18W
Router Features
Internet Connection Type
‧PPPoE
‧Dynamic IP
‧Static IP
VDSL Features
‧ITU-T G.993.2 VDSL2
‧Supports 8a,8b,12a,12b,17a,30a profile
‧Supports G.vector
‧Supports ATM and PTM
‧Supports G.INP
ADSL Features
‧ANSI T1.413 i2
‧1TU G.992.1(G.dmt) Annex A
‧1TU G.992.2(G.lite)
‧1TU G.992.3 ADSL2(G.lite.bis)
‧1TU G.992.5 ADSL2(G.lite.bis+)
‧ITU G.994.1 (G.hs)
‧Annex L (Reach Extended ADSL2)
‧Supports ATM forum UNI3.0, 3.1 and 4.0 permanent virtual circuits (PVCs)
‧Supports CBR, UBR, VBR-rt, VBR-nrt
‧Supports multiple PVCs
‧Supports ITU-T i.610F4/F5 OAM
Bridging Features
‧Self-learning bridge (IEEE 802.1D Transparent Bridging)
‧At least 64 learning MAC addresses
‧Supports IGMP Snooping
‧Supports MLD Snooping
Protocol Features
‧RFC 2684 multiprotocol Encapsulation over ATM Adaptation Layer 5
‧RFC 1483 multiprotocol Encapsulation over ATM Adaptation Layer 5
‧RFC 2364 PPP over ATM ALL5 (PPPoA)
‧RFC 2516 PPP Over Ethernet (PPPoE)
‧RFC 1662 PPP in HDLC-like Framing
‧RFC 1332 PPP Internet Protocol Control Protocol
‧RFC 1577/2225 Classical IP and ARP over ATM (IPoA)
‧RFC 894, a Standard for the Transmission of IP Datagrams over Ethernet Networks
‧RFC 1042, a Standard for the Transmission of IP Datagrams over IEEE 802 Networks
‧MER (a.k.a IP over Ethernet over AAL5)
‧Supports ALG (Application Level Gateways)
‧IEEE802.3
‧IEEE802.3u
‧IEEE 802.11b
‧IEEE 802.11g
‧IEEE 802.11n
‧IPsec
Routing Features
‧RFC768 User Datagram Protocol (UDP)
‧RFC791 Internet Protocol (IP)
‧RFC792 Internet Control Message Protocol (ICMP)
‧RFC793 Transmission Control Protocol (TCP)
‧RFC826 An Ethernet Address Resolution Protocol (ARP)
‧RFC862 Echo Protocol
‧IP routing: RIP1, RIP2, static routing and policy routing
‧Supports IP routing
‧Supports transparent bridging
‧Supports source and destination routing
‧Supports DHCP server/client
‧Supports UPnP
‧Supports NAT,NAPT
‧Supports DMZ
‧Supports IP QoS
‧Supports IP Multicast IGMP
‧Supports IPv6 MLD Multicast proxy
‧Supports IPv6
- DHCPv6
- DNSv6
Security
‧Three-level login including local admin, local user, and remote technical support access
‧Service access control based on incoming interface: WAN or LAN
‧Service access control based on source IP addresses
‧Protects DOS attacks from WAN: SYN flooding, IP surfing, ping of Death, fragile, UDP ECHO (port 7), teardrop, land
‧PAP (RFC1334), CHAP (RFC1994), MSCHAP for PPP session
‧IP filter, Parental control
VPN
8 IPSec VPN Tunnel
Tunnel Model: ESP or AH
Encryption Algorithm: DES / 3DES AES
Integrity Algorithm: MD5 / SHA1
Management
‧Device Configuration, Management and Update
‧Web based GUI
‧Localization support
‧Embedded web server
‧Download image via HTTP, TFTP client, TFTP server, FTP server
‧Command Line Interface via serial port, telnet, or ssh
‧Menu-driven CLI via telnet
‧Universal Plug and Play (UPnP) Internet Gateway Device (IGDv1.0)
‧WAN Management Protocol (TR-069)
‧SNMP v1/v2
‧PSI configuration file upload and download
‧Date/time update from SNTP Internet Time Server
Wireless Interface Specifications
Wireless Standard
IEEE 802.11a/b/g/n
Frequency Band
2.4GHz: 2.412~2.484GHz
5GHz: 5.180~5.825GHz
Modulation Schemes
‧802.11g: 64QAM, 16QAM, QPSK, BPSK, DSSS
‧802.11b: CCK, DQPSK, DBPSK
‧HT20 and HT40: 64 QAM, 16QAM, QPSK, BPSK
Data Transmission Rates
802.11n(40MHz): up to 300 Mbps
802.11n(20MHz): up to 144.4 Mbps
802.11g: 54, 48, 36, 24, 18, 12, 9, 6 Mbps per channel, auto fallback for extended range
802.11b: 1, 5.5, 2, 1 Mbps per channel, auto fallback for extended range
802.11a: 54, 48, 36, 24, 18, 12, 9, 6 Mbps
RF Power
2.4GHz:
11b: 18±1.5dBm
11g: 14.5±1.5dBm
11n(20MHz): 16.5±1.5dBm(MCS 0~3)
14.5±1.5dBm(MCS 4~7)
16.5±1.5dBm(MCS 8~11)
14.5±1.5dBm(MCS 12~15)
11n(40MHz): 14±1.5dBm(MCS 0~3)
12.5±1.5dBm(MCS 4~7)
14±1.5dBm(MCS 8~11)
12.5±1.5dBm(MCS 12~15)
5GHz:
11a: 10±1.5dBm
11n: 10±1.5dBm
Wireless Data Encryption
64/128-bit WEP, WPA-PSK, WPA2-PSK, 802.1x encryption, and WPS PBC
Environment Specifications
Temperature / Humidity
Operating: 0~40 degrees C, 10~95% (non-condensing)
Storage: -20~70 degrees C, 5~95% (non-condensing)
Certification
CE
ติดต่อเรา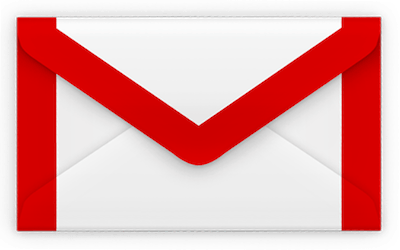 krieng.nt@gmail.com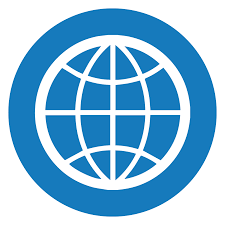 www.108connect.co.th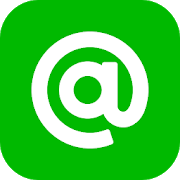 @108connect